Contact: Ellen Green, Press Manager -
PressManager@aegpublishinggroup.com
Phone: 888-808-6190 -- Corporate Office
FOR IMMEDIATE RELEASE
HOW NOT TO KILL THE WOMAN YOU LOVE:
YOUR GUIDE TO SURVIVING HER MENOPAUSE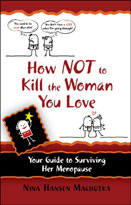 "I'm so hot, I think I'm going to die." If your wife, mother, sister or aunt is going through menopause and is driving you crazy with her complaints, this humorous book is for you!
How NOT to Kill the Woman You Love:
Your Guide to Surviving Her Menopause
is a totally unique reading adventure. For the first time, guidance is given to the neglected family members who must deal with a menopausal woman. The secrets for creatively coping with her behaviors are revealed in 10 easy steps, and will guarantee that you will survive her menopause. There's no need to kill her! If your patience has worn thin and you're looking for help to survive these difficult times, How NOT to Kill is must-have reading.
About the Author:
Nina Hansen Machotka has worked as a technical writer and marketing communications writer for 30 years. Born in Pacifc Palisades, CA, she now lives in Italy with her husband, painter and writer, Pavel Machotka. Her book, The Field Stones of Umbria, was published in 2009.